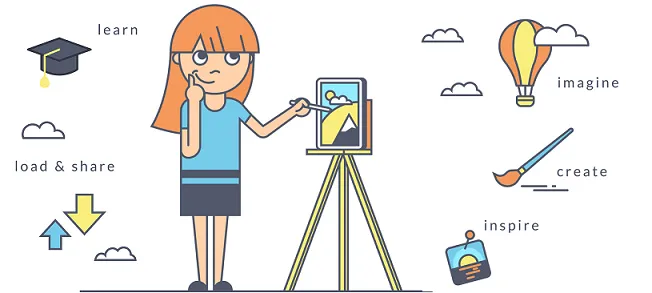 Creative things would come naturally to an artist, be it a beautiful painting on a wall or decorating a house or making things using broken pieces of a glass. To monetize all this creative stuff or to get paid for the art work, the artist needs to invoice and there is not much of creativity involved in invoicing but still it needs to be done and must be done meticulously.

So, all you artists out there, does invoicing excite you?! Ok, how about, does money excite you? I am sure it would to most of you and if it does, then continue reading, am going to share some interesting stuff on how you can keep track of your art work and minimize misunderstandings whenever you sell your work or consign your work.

We at TopNotepad, help you solve the challenges in the first type of transaction i.e., the sell. Always create an invoice when you make a sale, even if it's only to family or friends. And your invoice should cover date, description of the work, price, collector information, payment deadline, delivery and title, insurance, copyright; future shows and resale. The templates provided by TopNotepad are quite flexible and have options to add all the above listed components.

The second kind of transaction which eventually is expected to result in sale is a bit tricky as you have a third party that is trying to sell your art work. In such cases, use a consignment form i.e., whenever you give your work to someone who will then try to sell it on your behalf, such as at a group show, an art fair, a benefit auction or a gallery please do use a consignment form, which should include (in a bare-bones consignment agreement) the venue, timeframe, inventory list, payment, split, collector details, packing and shipping details, insurance, unsold work, and cancellation.

Please note, before using your own consignment forms, share it with a lawyer for the arts to make sure you're covered. Also, you may have other issues, very specific to your situation that you may want to include, and, depending on what country/state you live in, there may be some legal fine print you need to add.

Hope this helps in reducing your burden doing non-creative but critical stuff for your art business.