When I try to record a new payment I see a credit balance for the client, why?
In past, you have recorded a payment for this client and at the time when you recorded, there wasn't any unpaid invoice or due amount. And hence the software stored the payment as the credit balance.

Based on the records in the software, as there is nothing due from the client, any new payment is an overpayment or advance payment and will be kept in client's ledger as credit balance until you raise new invoice/s and set it off against these new invoices till it becomes zero.

I want to delete the credit balance. How can I access the records?
Please visit "Clients" page and click on the wallet action icon, as shown in the screenshot below.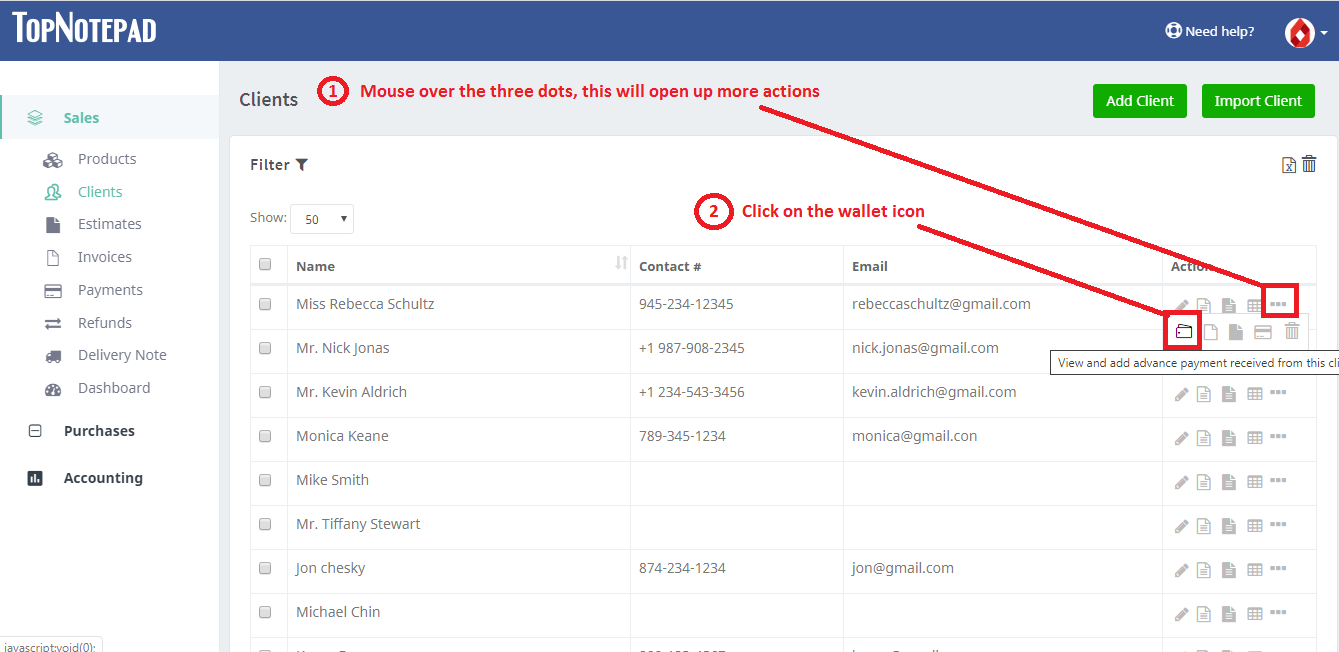 Scroll down to the list and delete the records.




Why did the software store the payment as credit balance in the first place?
When you record a payment made by a client without raising the invoice first and there is nothing due from the client until you raise a new invoice, the software would record such payment as credit balance.

Can you please share an example?
Let us say, you received a payment of 1000 from your client and you recorded the same in TopNotepad, without raising the invoice (i.e., without billing the client).

Now, the software, when you add a new payment, will try to find if there is anything due from the client.

In this case you have not created the invoice, you just recorded the payment, so, the software will not find any proof (i.e., invoice) of the service provided or goods sold.

For the software, it is money you owe to your client, unless you sell your services to the client. And invoice is treated as proof of sale.

So, if you got 1000 today and recorded the same in TopNotepad and raise an invoice a week later, you can set-off the invoice against this 1000, which is stored as a credit balance.

By the way, as per accounting, this is the perfect way to deal with transactions such as above. However if you find it complex, read the next question.

How can I avoid this in future?
Always consider raising the invoice first and then add payment that you receive from your client against that invoice.